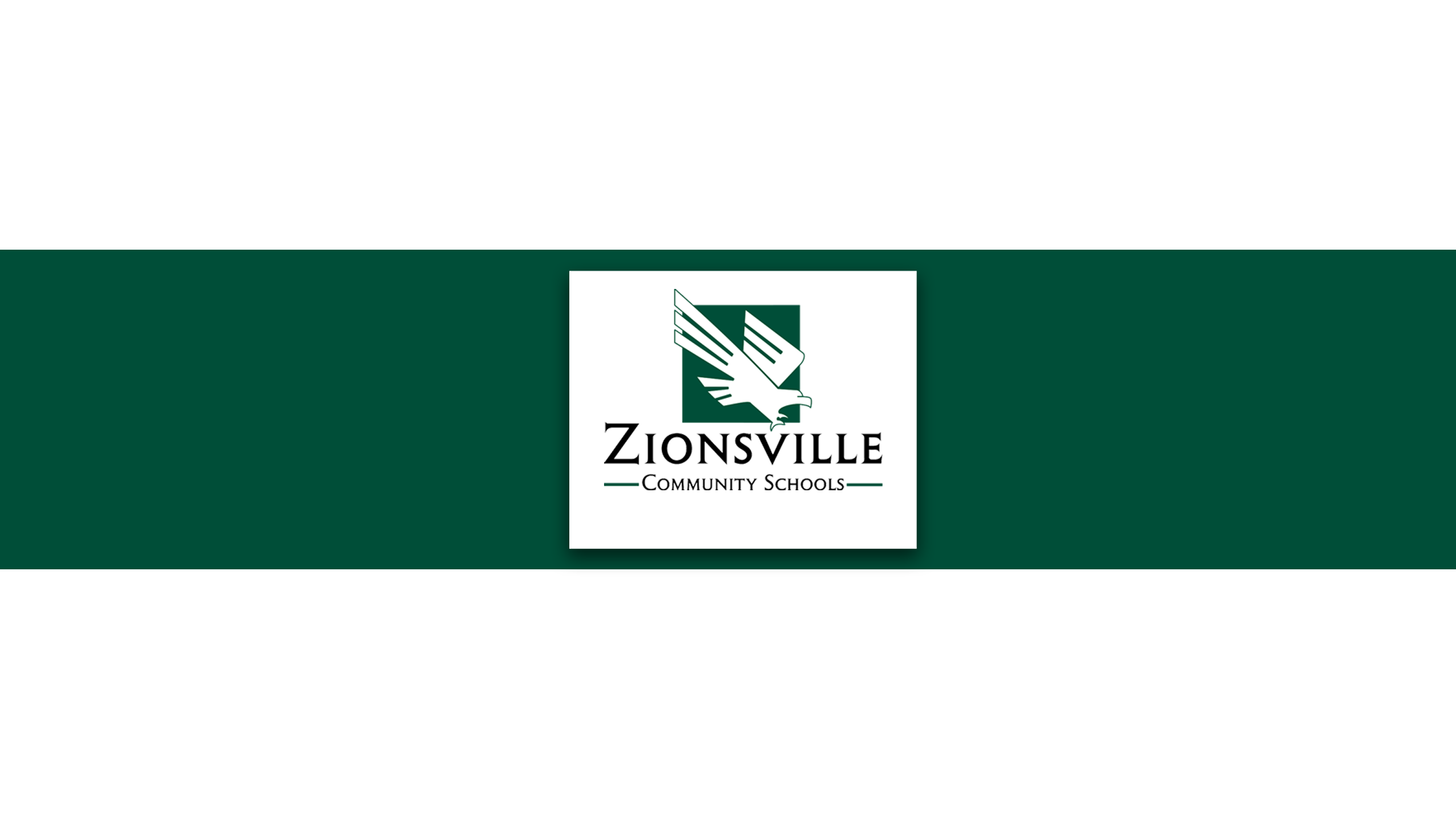 ZCS GRADES 5-12 RETURN IN-PERSON MARCH 9, 2021; FOUR DAYS PER WEEK
Return to in-person instruction for all ZCS grades 5-12 students is possible beginning Tuesday, March 9, 2021 for the balance of school year unless otherwise ordered by the Boone County Department of Health. A parent survey for grades 5-12 was sent via direct email so that a new in-person or remote only selection may be made. Please complete the survey by Monday, March 1 at 5PM indicating if your student (s) will be attending in-person or remote only.  (If you had recently indicated to your school a return to in-person on March 1, your student will begin on March 1. Please use the survey to respond about your selection for your student AFTER March 8 until the end of the school year.)
GRADES 5-12
Mondays will remain synchronous remote only days for all grades 5-12 students with the exception of March 15 (asynchronous remote) and May 24 (seven period day synchronous remote).  The elementary school schedule remains the same. ZCS secondary schools have provided a synchronous remote and in-person experience simultaneously while on our hybrid (two-day per week in-person) schedule. Monday is being preserved in the new schedule for the balance of the year as the only day of the week when teachers can focus all students in the same platform with no masks in an instructional experience that does not break continuity with the rest of the week.  See the COMMON QUESTIONS and SECONDARY SCHEDULE sections in this document for more details.
Tuesday, Wednesday, Thursday and Friday of each week will be in-person school days* for all who choose it via their survey response.
Your survey choice is for the balance of the school year.
THE SCHOOL CALENDAR LINK will help you discuss the survey decision with your child by allowing you to see the remainder of the school year.
Recent research has indicated that in-school spread is very low in situations that practice mitigation strategies as we have and will continue to do. Even so, community spread may again encroach upon us and cause mandatory quarantines and isolations. We will continue to monitor well and report via the state system as needed.
SECONDARY SCHEDULE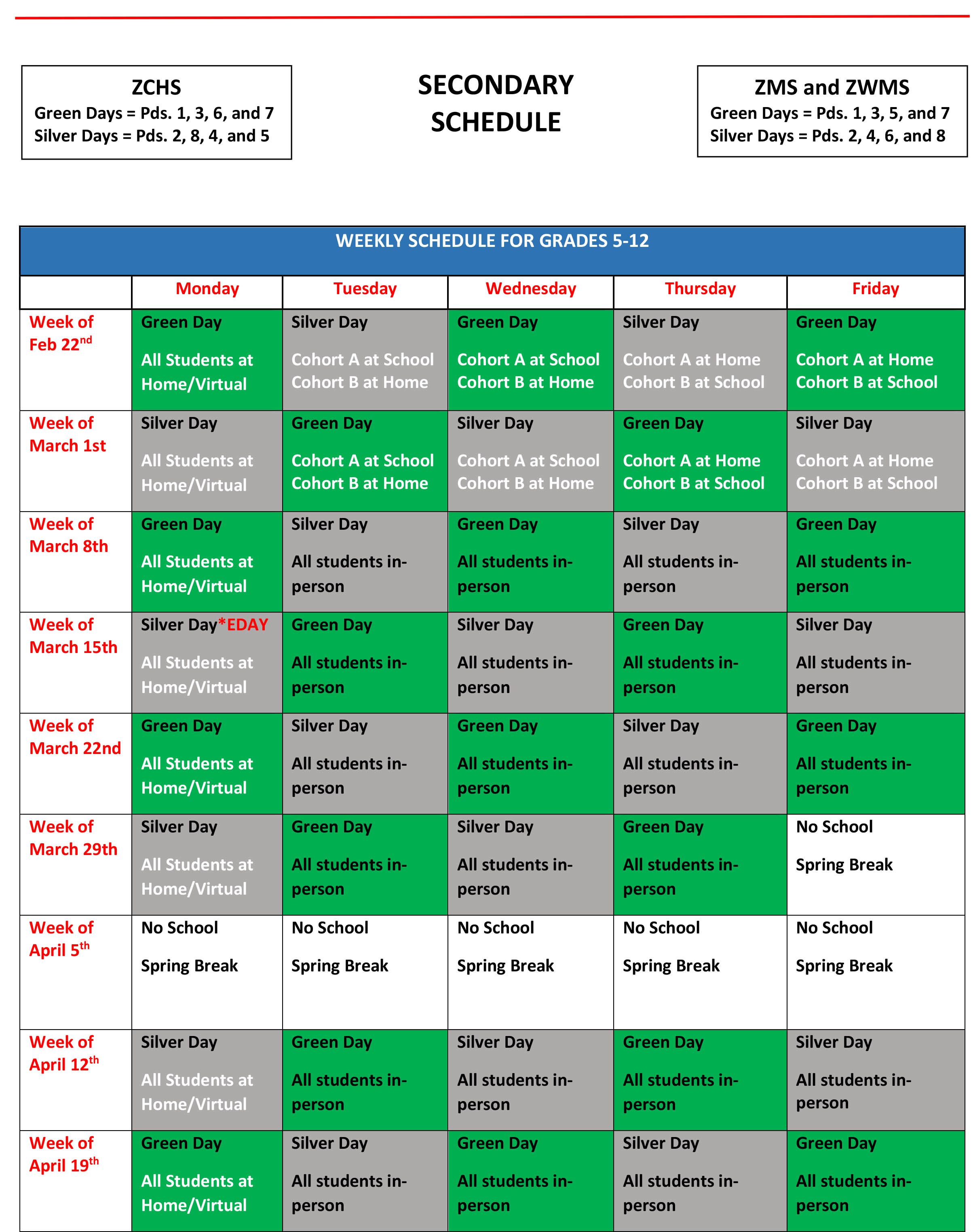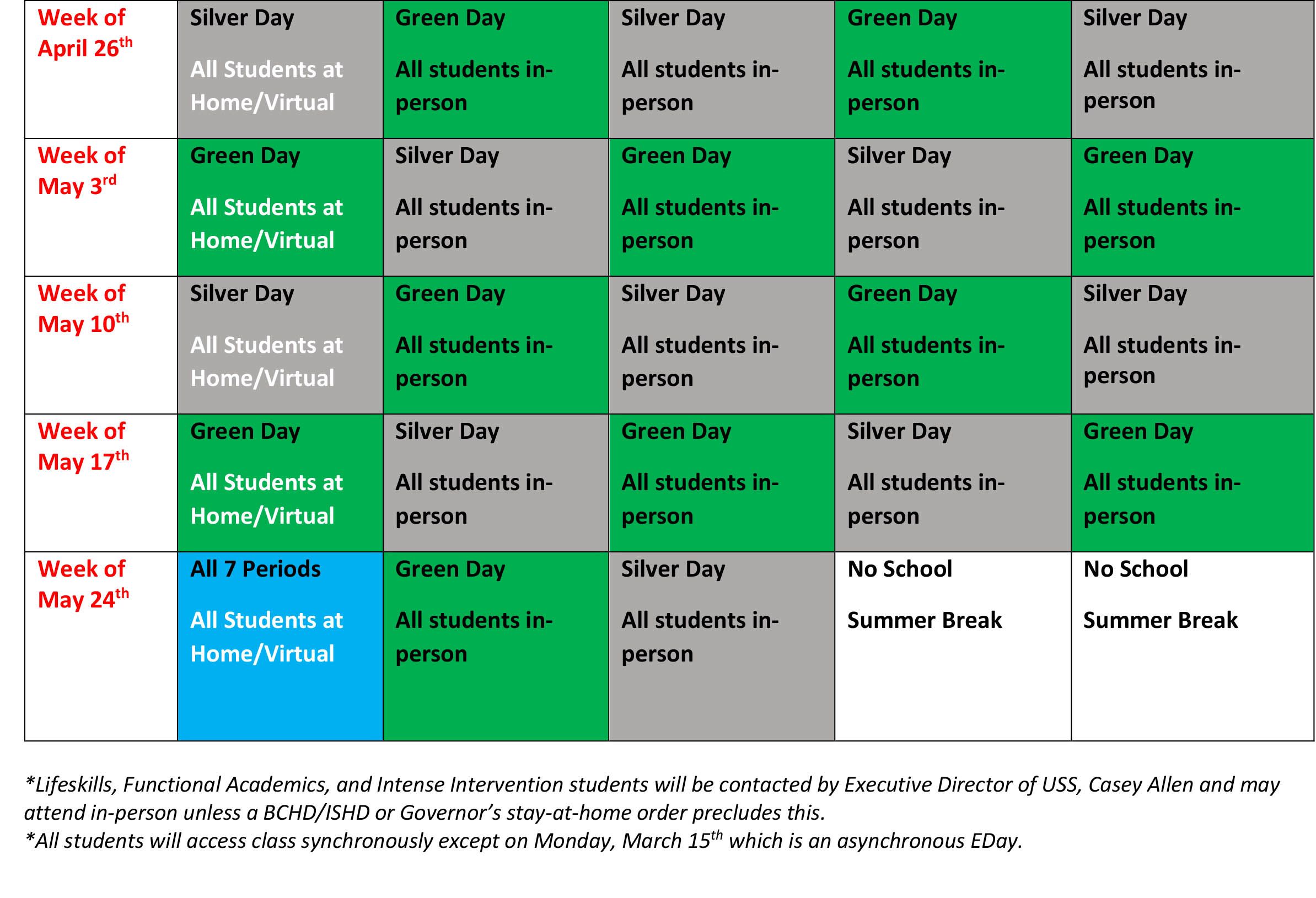 ELEMENTARY SCHEDULE STAYS THE SAME. THIS IS ONLY FOR GRADES 5-12.
ZCS has offered a completely separate remote only experience for elementary students. This has assisted our elementary teachers in a singular focus during instruction that has proved successful and developmentally appropriate, as we suspected upon devising this delivery last August.
START AND END TIMES
There are no changes to school day start or end times at any level.
LUNCH AND TRANSPORTATION
Will lunchrooms be socially distanced?
Campus leaders will be using data from the parent survey to plan for socially distanced lunch experiences on secondary campuses.  Elementary lunch experiences have utilized a cohort approach since school began in August with no negative consequences to date.
Will school buses be socially distanced?
Reducing our bus occupancy has assisted with distancing, but it is not possible to run bus service for more than a handful of students with strict six-foot separations everywhere. We have been utilizing an "always masked" during bus rides approach with no negative consequences noted. This will continue.
WILL RESTROOMS BE CLEANED MORE FREQUENTLY?
Our cleaning protocols are well set and have been successful throughout the school year. These protocols continue.
DO WE CONTINUE TO FILL OUT THE HEALTH SCREENER EACH DAY?
Yes. Find a link to the HEALTH SCREENER here.
DOES THIS CHANGE ATHLETICS AND EXTRA-CURRICULAR ATTENDANCE LIMITATIONS?
We have specific permissions and protocols for athletics and extra-curricular activities as determined by the Boone County Health Department. Athletic and activity directors on our campuses are constantly communicating about these parameters. If you have specific questions, please call your student's campus office to connect with the involved school official.
WHAT METRICS WILL SEND US BACK TO HYBRID LEARNING?
We are in touch with county health officials multiple times per week. They have helped us navigate the state and CDC guidance statements and documents—that do not always align. As such, our final local authority on what may or may not be approved is the Boone County Health Department. They have authorized this schedule change, and we will look to them if a future CoVID-19 surge threatens to set us back on the hybrid schedule.
HOW MUCH NOTICE WILL WE BE GIVEN IF WE HAVE TO RETURN TO HYBRID?
For past schedule changes, we have made transitions only after several days of notice, typically a survey, and the opportunities for our secondary teachers and campus leaders to reset instruction and other daily accommodations to the new schedule. We have heard of some changes in other communities being implemented with only 24 hours of notice. This is not very likely in ZCS with the exception of being advised by the health department of go all-virtual immediately—as we experienced on March 12, 2020.
REMINDER THAT IT IS MORE IMPORTANT THAN EVER TO KEEP YOUR KIDS HOME IF THEY ARE SICK. THIS WILL GIVE US THE BEST CHANCE FOR KEEPING IN-PERSON SCHOOL SERVICES AVAILABLE TO ZCS STUDENTS.
HAVE YOU THOUGHT ABOUT GRADUATION?
A great many "rites of passage" events were greatly altered or even missed entirely by last year's students. Our high school campus leaders have been working on this question for many weeks, and communications in these regards will come from Mr. East and/or members of his lead team. Commencement is set as an outdoor event on June 6, 2021 at 2PM with rainout reset for 7PM that same day. A final rainout date of June 7, 2021 is planned as well, and Mr. East will ensure complete communication about this and other important events—as will other secondary campus leaders regarding their spring events.
WILL YOU BE ALLOWING VOLUNTEERS BACK INTO THE BUILDING?
No. We must continue to restrict entry until a later date of progress in the fight against CoVID-19.
OTHER COMMON QUESTIONS
Q: Can my child decide to stay home and join classes virtually if they are an in-person learner?
A: No! Please help us extinguish this practice for safety and other reasons. This is increasing as an issue forcing several minutes of "finding" students for whom teachers have planned an in-person experience. Now, if your child is sick and cannot come to school, they should focus on getting better! If a student feels well enough to come to school and they are an in-person learner, they should attend class in-person and not virtually. If a student must be quarantined, the teacher will work with that student on protocols for accessing classroom lessons and assignments. If an in-person learner is staying home for the day for reasons other than quarantine, please contact the attendance line and have your student check Canvas for any missed assignments.
Q:  Why is the return for 5-12 not like the five-day schedule for elementary schools?
A:  Middle and high school (secondary school) instructional delivery and scheduling is quite different from what we see in the elementary setting. Secondary teachers have provided simultaneous online and in-person classes for more than 100 days now. This dual focus provides no opportunity during the week to have all students on one platform, without masks, and engaged by the teacher's singular focus. While the consistency of synchronous teaching has kept entire cohorts together in pacing, our teachers need this one day per week to have all learners together in a common experience.
Q:  How many children have tested positive at my child's school? How many teachers/staff?
A:  This information has been captured since our return to campus on July 6, 2020.  You can search this information for any Indiana school by clicking on the link found here.  Go to the "School" tab and type the name of the school in the search bar to pull up recent and historical data.
Q:  What were the ZCS numbers like when we moved from the Hybrid model to all in person last fall?
A:  When we returned to all in-person at the secondary level on 9/28/20, we had 77 in quarantine and two positives.  Today (2/23/21) we have 84 in quarantine and 0 positives.  This is just a snap shot in time.
The week before our return in September was as follows:
Q:  Are masks still required at school?
A:  Yes.  Masks are required.  This adjustment to permit all secondary students back on campus is specifically connected to our data and the successful implementation of all available mitigation strategies.  The use of masks, social distancing to the greatest extent possible, proper hand hygiene, enhanced cleaning measures, and management of our indoor air quality through improved ventilation are all important factors that have allowed ZCS to demonstrate low transmissibility within the school environment. 
Q:  Can I get bus service for my student?
A:  To continue our school bus spacing to the extent possible, we are only able to honor those requests for bus service that were made previously in the school year.  There will be slight adjustments to timing of routes with additional stops along the way.
Q:  Do we still need to complete the daily screener?
A:  Yes.  This tool is designed to help families pause during the hectic morning and reflect on any symptoms that may be present in the household. While the numbers are decreasing across the state, we cannot let our guard down. Thank you for using good judgement and adhering to the screener by not sending your child to school when someone is ill OR when there is a pending test for a symptomatic person in the home. Symptomatic individuals must provide a negative PCR test or other physician statement to return, otherwise they are out for 10 days.
Q:  Can my child be tested at school for COVID-19 with the test kits from the state?
A:  No.  ZCS has not received the BinaxNOW test kits. After consultation with Boone County health officials and Ascension St. Vincent, ZCS has determined that we will not be utilizing the BinaxNOW cards to test students and/or employees.  There are numerous considerations for schools to consider with this opportunity.  Further details can be found on the podcast from the Board of School Trustees meeting held on 2/8/21.  Testing is readily available throughout Boone County and our neighboring communities. Testing sites can be found here.
Q:  How long can I expect my child to be quarantined if they are contact traced to a positive individual?
A:  This quarantine time period had been adjusted several times since the start of the pandemic. Current guidelines have students being quarantined for 14 days from the last close contact with a positive person.  More information about the current quarantine period can be found here.
Q: How long can I expect my child to be out of school should they test positive for COVID-19?
A: This has not changed.  A positive individual is required to isolate for 10 days from the onset of symptoms or 10 days from when the test was drawn in asymptomatic cases.  Positive individuals may return to school after the 10-day isolation period as long as their symptoms have improved and they are fever free without the use of fever-reducing medication for at least 24 hours.
Q: How do I report positive cases in my household?
A:  The best way to report cases to the school and determine isolation and quarantine dates is to utilize the button on each school's website, or by clicking here.  A member of the ZCS contact tracing team will reach out to discuss next steps for your family.